home
Welcome to The Best Western Plus
Fernie Mountain Lodge in Fernie, BC
We want to welcome you as soon as we can. Due to travel restrictions in B.C. effective April 23, 2021, people are not allowed to travel outside of their regional zone until May 25, 2021. To learn more about British Columbia's travel restrictions, essential travel inclusions, and identify which health area you currently reside in visit www.gov.bc.ca/covidtravel.
When you stay with us at the Best Western Plus Fernie Mountain Lodge you can expect nothing but the best in hospitality, customer service and Rocky Mountain accommodations. As one of the top Fernie hotels, we want to make your stay relaxing and stress-free. We offer excellent amenities, including, an on-site restaurant and sports bar, an indoor swimming pool and hot tub, meeting and event space, a fitness centre and a complimentary breakfast to help start your day off right. We are also one of the only pet friendly hotels among Fernie, BC hotels.
We look forward to welcoming you to the Best Western Plus Fernie Mountain Lodge – where comfort, affordability and convenience are top priority.
Rooms
Our tastefully furnished rooms and suites offer the relaxation you need. We have excellent in-room amenities, including kitchenettes, microwaves, refrigerators, fireplaces, free Wi-Fi and more. We also have pet friendly and accessible room options.
Learn More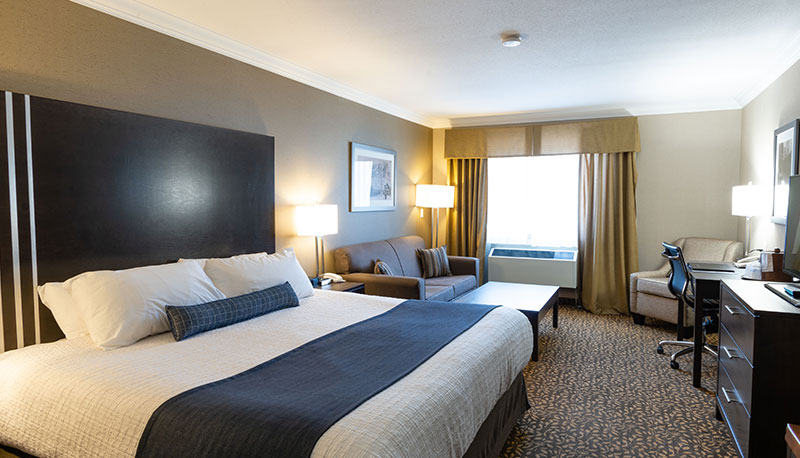 Specials
We offer a variety of hotel specials, including special promotions and package deals throughout the year. Make sure you ask us about current specials when you call to reserve your room or suite.
Learn More
Happy Guests
Check out some of our most recent hotel reviews and see what makes us a top choice for staying in the Fernie, BC area.
'Easy check-in and check-out. Very friendly and courteous staff. Super breakfast. Great rooms - very clean. Very quiet. Will definitely go back. Great location. Plug ins provided for electric vehicles. Pool & hot tub very clean and inviting."
Quiet and Relaxing Stay
– J3830SZtimothyp – Feb 2019
"The staff was very friendly and helpful. The hotel itself is well kept and clean, with very comfortable beds. We really enjoyed the fire place in the room and the spa, both indoor and outdoor. The in-house restaurant - Boston Pizza - and sports bar are great: good food and ambiance. The historic downtown section of Fernie is within a 10-15 minutes' walk. The hotel is on the ski bus route and is only a short drive from Fernie Mountain Resort."
Great Place
LynetteJB – Jan 2019
"The staff was very friendly especially in the breakfast area. The pool and hot tub were great. The rooms were clean and as advertised, cleaning staff were friendly and accommodating. Express check out was a breeze! Close to the ski hill (10 minute drive)."
Friendly Staff, Great Location
Journey39704150971 – Jan 2019
"Enjoyed my stay for my birthday weekend at the Best Western in Fernie, BC. All staff were extremely helpful, and I truly appreciated their recommendations for great meals at the restaurants in Fernie. I also appreciated the hot breakfasts provided with our stay. The pool and hot tub area is nice and quiet. The hotel is clean and well maintained. I will definitely be staying there again for my next visit to Fernie, BC."
Great, Comfortable Stay
Fina S. – October 2018
"We always stay here when visiting Fernie. The hotel is always clean, and the staff is great. They have a good breakfast selection, much better than average Best Western offerings. Liquor and grocery stores close by and a Boston Pizza attached."
Great Hotel
Gordon R. – September 2018
Learn More